How to avoid ingrowing toenails

Avoid ingrowing toenails – An ingrown toenail happens when the edges or corners of the nail grow into the skin next to the nail and break the skin. It is a common condition, and it can be painful, causing swelling, redness, and sometimes infection. It usually affects the big toe, either on one or both sides of the toe.
If you are suffering from ingrowing toenails, it is advisable to see a podiatrist for the correct management of your feet. Here are some useful tips on how to prevent them.
It's all about how you cut your nails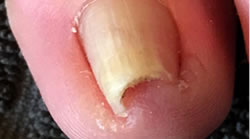 1. DO NOT DIG THE CORNER OUT
If you have nails that curve inwards (involuted), avoid cutting the corners as this would make the situation worse.
Instead, cut the corner of the nail straight and carefully clear any debris from around the nail.
---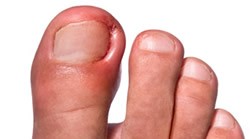 2. AVOID CUTTING THEM TOO SHORT
The main function of the nail is to protect the end of the toe. By cutting your nails too short, you expose the nail bed to potential infection. Also the skin at the end of the toe may fold over, so as the nail grows it digs into it, causing an ingrowing toenail.
---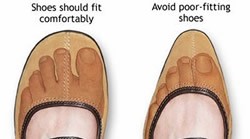 3. ATTENTION TO SOCKS AND SHOES
Make sure your socks and shoes fit properly.
Tight hosiery and footwear can cause unnecessary pressure, friction, and significant trauma to your toenails, causing them to grow in.
---
4. SEE A PODIATRIST REGULARLY
If you are experiencing nail problems, see a HCPC Registered Podiatrist on a regular basis. Podiatrists can manage thickened, fungal or ingrowing toenails efficiently. They are experts at nail surgery, a procedure that can permanently cure your ingrown toenail. They can also prescribe Antibiotics.
---
At Medipod Clinics we take great care of your feet.
Our Podiatrists have extensive experience in treating ingrowing toenails. We understand how your feet work and we will treat them with the respect and attention they deserve.
We can also advise you about your children's feet, footwear, corns and calluses, verruca treatments and sports injuries management.
I can assure you that we will do our best to exceed your expectations. With our knowledge and enthusiasm for footcare, we will be able to advise you on the right treatment for you.
If you are already experiencing any foot pain, we are more than happy to help. Give us a call today on 01455 246100 to chat through your needs.
Thank you for reading,
Faye Vogiatzoglou
HCPC Registered Podiatrist / Chiropodist