Warm Wax Therapy Treatment
Warm Wax Therapy Treatment and the Importance of Maintaining your Foot Health
Upgrade your Podiatry or Beauty Treatment and Experience a Therapeutic Warm Wax Therapy Treatment.
Why is this so important?
If you don't regularly maintain the health of your feet, you may experience discomfort from nails, hard skin or cracked skin. Furthermore, the skin may get infected and extremely sore, even stop you from walking. The last thing you want is for you to be unable to do your daily tasks, such as school run, going to work or exercising. In this article, we share a real story involving one of our patients who experienced problems because they did not regularly maintain the health of their feet.
Helen's story: How I fell into the trap of poor maintenance
Helen works outside in the cold at a Forest School in her local area. She really suffers from dry and cracked heels. Her feet hurt by the end of the day especially in the cold weather after standing on them for many hours. Helen used to visit Medipod Clinics regularly but, over time, she became really busy at work and failed to arrange follow up appointments. Her feet got so bad that they were hurting all the time to the point of bleeding and not being able to stand.
"Working outside at Forest School 3 times a week was giving me terrible dry cracked heels, which are very painful. I attend Medipod Clinics regularly now to sort my cracked heels out and I finish with the Warm Wax Treatment. I love my 6-week appointment and come out dancing with my new feet!"
Helen now books her next appointment before she leaves the clinic. This means that she doesn't have to worry about her feet anymore and can carry on with her work. Helen also has Warm Wax Therapy Treatment regularly.
---
What is Warm Wax Paraffin Treatment?
Paraffin Wax Heat Therapy increases blood flow, tolerance to pain, relaxes muscles and increases hydration in the skin. It is intended to deeply moisturise and soften the skin while providing a therapeutic and healing effect to sore and aching joints.
Parrafin Wax contains Essentials Oils
Paraffin Wax decreases callouses on the feet while deodorising and soothing the skin. The essesntial oils intensely moisturise and provide an antiseptic and anti inflammatory action.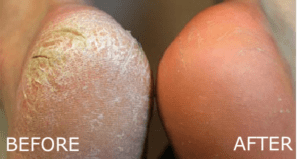 Lavender
Frankincense
Myrrh
Sunflower Oil
Orange
Bay Leaf Oil
At Medipod Clinics we always keep up-to-date with best Podiatry practice. Furthermore, we are always searching new ways to improve our service to you and we listen to the feedback from our patients.
If you feel that you will benefit from regular treatments or you are just looking for a single session, we would be more than happy to help. Give us a call today on 01455 246100 to chat through your needs.
We offer a wide range of podiatric and beauty services, such as verruca treatments, nail surgery as well as medi-pedi and nail reconstruction, so do not hesitate to ask for more information. With our in-depth knowledge and expertise, we can support you every step of your way by providing a highly professional service.
For more information about our standard podiatry treatment, warm wax therapy, medi-pedi or nail reconstruction please contact us on 01455 246100.
We would love to help you with any issues you may be experiencing.
Thanks you for reading,
Faye Vogiatzoglou
medipodclinics.com